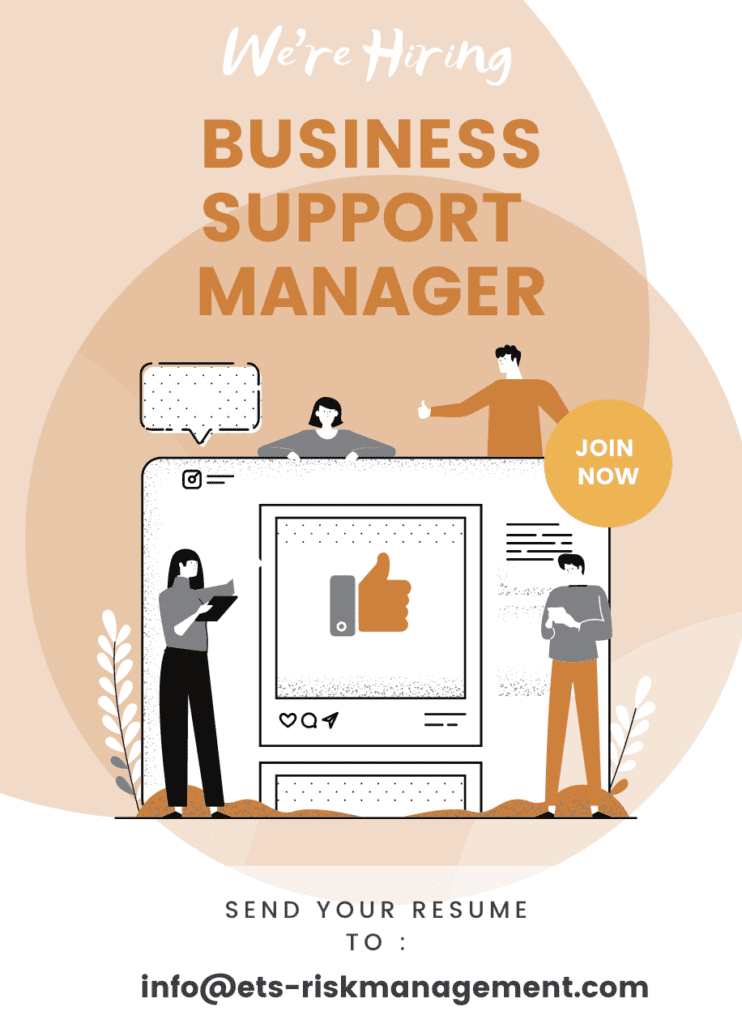 We are currently searching for a Business Support Manager to join our team
ETS Risk Management supports and protects at-risk individuals, organizations, celebrities, and corporate clients around the world. Since 2012 the team has grown to become one of the leading suppliers of protective services to a broad range of interesting clients. The day-to-day operations include supporting some of the most iconic global events, tour groups, Fortune 500 CEOs, and providing security in over 80 countries across the globe.
Requirements for the role:
A team-player mindset with a high level of dedication to raising the bar for the whole team.
Sharp problem-solving skills paired with a proactive mindset
Strong organizational skills along with the ability to multitask & prioritize own workload to manage several projects at the same time.
Excellent communication skills – both written and verbal
Knowledge of human resources management practices and procedures, a plus
Excellent  IT skills including Excel and CRM systems with proven experience and qualifications
Comfortable speaking with stakeholders at all levels within the business
Ability to handle confidential information and always maintain the utmost integrity
Tasks and Responsibilities:
Responsible for the company's corporate entity registrations and renewals, security licensing applications, documentation, and renewals.
Responsible for ensuring general office compliance, as well as validating supplier credentials and licenses.
Issuing client and contractor agreements (proofreading and distributing)
Overall standards and systems management
Responsible for updating all of our ISO9001 certification documentation
Introduce new practices for additional certifications and standards
Assist with personnel growth and support
Introduce new practices to improve productivity and efficiency, saving time, administrative workload, and internal costs.
Development of Regional Staff and support them to work more efficiently
Assist with the tracking of new business enquiries and CRM Management
Assist COO and Operations Team to ensure that all operations run smoothly and align with very high-quality standards
Work closely with the CFO to assist with invoicing, documentation filing, expense reporting, and regional area financial reports
Assist CFO by preparing and distributing financial reports to upper management and stakeholders.
Assist CFO with the reconciliation of bank and credit card statements and review financial statements
Assist with maintaining accounting controls by recommending, preparing, and implementing policies and procedures
About you:
You like working independently and are highly organized. To be able to do this role well you need to be organized and happy managing all aspects of a project.
You are a self-starter and thrive in a role where you can jump into projects without always having the information at hand.
You can take on a role that has a lot of operational management.
You can scope out a situation and work out where you need to spend your time and have a keen eye to focus on what you can improve and bring solutions. We love people who enjoy mapping out processes and documenting key information, and generally leave things better than they find them.
You are confident and full of ideas – this role will need you to work with everyone across the business, so you will need to be comfortable being the first point of contact for lots of people across a range of projects people are passionate about.
Location: USA or UK preferred
Salary:  $65-75k USD per annum (or international equivalent)
What ETS Risk Management can offer you?
Flexible hours
Chance to work and develop with an international team
Remote work opportunities
Opportunity for team travel
To be part of an exciting and rapidly growing industry
Equal Employment Opportunity:
ETS Risk Management is an equal opportunity employer and fully supports and maintains compliance with all state, federal, and local regulations. ETS Risk Management does not discriminate against associates or applicants because of race, color, genetic information, religion, sex, sexual orientation, gender identity or expression, age, ancestry, national origin, veteran status, military status, pregnancy, disability, marital status, familial status, or other characteristics protected by law. Equal employment is extended to all persons in all aspects of the associate-employer relationship including recruitment, hiring, training, promotion, transfer, compensation, discipline, reduction in staff, termination, assignment of benefits, and any other term or condition of employment.
To apply, please email [email protected] with the subject heading: 'Business Operations Manager Role Application'. Please send a full resume/CV, with a quick email about why you think you would be great for this role.
OTHER ROLES
Thank you for taking the time to consider ETS Risk Management for your future.
We are always interested to hear from talented and skilled individuals globally that meet our high international standards.
Las Vegas, NV – Executive protection specialists, special event security, security drivers, risk management professionals
Washington DC and Surrounding Area – Executive protection specialists, special event security, security drivers, risk management professionals
International and Domestic risk management and protective services specialists
Please complete the application form.
If your qualifications match our requirements for a current opening, we will reach out via phone and email. Please note that only candidates who are considered a good client fit will be contacted; we appreciate your understanding of this. If you do not hear from us, please have patience as tasks may develop at any point.
Thank you,
The ETS Team
7315 Wisconsin Avenue
Suite 400 West
Bethesda, MD 20814
Office Phone: 1-877-455-2935
Email: [email protected]

Tintagel House, 92 Albert Embankment
London, SE1 7TY, United Kingdom
Phone: +44 203 014 8940
Email: [email protected]

AVENIDA, PAULISTA
2300 -Andar Pilotis
Bela Vista – São Paulo – CEP: 01310-300 – Brazil