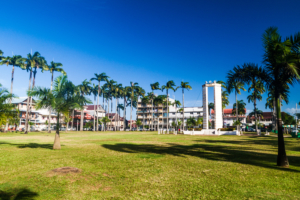 Guyana Security, Executive Protection and Secure Transportation 
ETS has comprehensive capability to provide clients the very highest standard of service within Guyana and neighboring regions. We have expatriate local resources available to ensure project management and local trusted suppliers of bi-lingual drivers and security personnel. 
Guyana Security Overview 
Guyana is considered a MEDIUM risk travel destination. Countries classified as Medium Risk are not fully secure. The crime rate in Guyana is high. A considerable proportion of violent crime has been linked to the drugs trade in Guyana. The geographic location lends itself as a transit point for Colombian cocaine destined for Europe, the Caribbean and North America. Medical care is inadequate throughout the country, including in the capital, Georgetown. Armed robberies are increasing, especially in major business and shopping districts and foreign nationals are often targeted due to perceived affluence. Pickpocketing, purse-snatching, assault and theft occur in all areas of Georgetown.  
EXPLORE OUR OTHER SERVICES IN GUYANA

Call us directly or use our contact form to send us a message and one of our risk management specialists will get back to you.