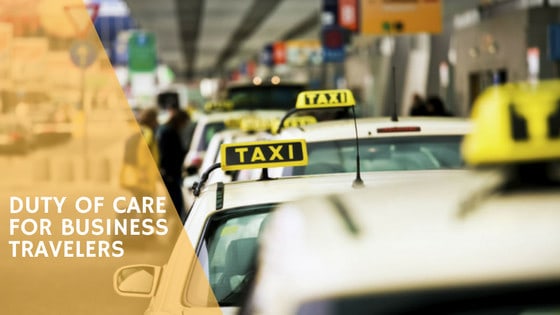 Duty of Care for Business Travelers – Why Secure Executive Transportation is a Critical Aspect
The need for employers to meet their duty of care requirements to employees is a complex process to navigate for many organizations. Understanding what measures you can take to manage this level of risk remains a considerable challenge. Incorporating the use of secure executive transportation into your travel risk management plans is a prudent move to reduce this risk and keep your people safe. Now, more than ever the need arises as to how best to meet this legal obligation for staff and employees who are traveling overseas on company business. The constituent groups this affects are varied, ranging from executives, accompanying spouses and dependents, students, teachers, volunteer groups, contractors – the list goes on.
Duty of Care – A Definition
The broadly accepted definition of Duty of Care is: 'is a legal obligation, which is imposed on an individual requiring adherence to a standard of reasonable care while performing any acts that could foreseeably harm others. It is the first element that must be established to proceed with an action in negligence.' Moreover there is now a growing recognition both in the courts and with potential plaintiffs that breaches of duty of care occurring abroad can be heard in U.S. courts. The number of cases being presented has increased and employment lawyers are particularly alert to the issue.
This sets an additional standard to be met by employers – in that the measures in place to meet the requirement at home may not suffice abroad. In fact, it is almost certain that it won't. Your senior executives and traveling staff members will likely be most at risk and exposed to hazards when in transit – particularly when traveling by road or awaiting transportation outside of an airport, venue or business premises. If you are not paying attention to the additional safety and security needs for staff on travel abroad then it is highly likely that you may be placing your own organization at risk – both in terms of their physical safety, but also of potential future litigation.
Increasing levels of risk for the Business Traveler
The much publicized case in 2015 of former NGO worker Steve Dennis provides an excellent example. Dennis, a former staff member of the Norwegian Re (NRC) is sued the agency, claiming gross negligence and failure in duty of care after he was kidnapped and shot in Dadaab, Kenya. Dennis was traveling in a convoy through the camp when his car came under attack. The driver was killed, Dennis was shot in the leg and he and three other colleagues were taken captive. Interviewed in 2015, Dennis stated that: "Like everyone going into a risky situation for work, I believe there's a minimum level of training and procedures required and when it's not there I believe there should be accountability for it."[1] This case absolutely highlights the need to have deliberate and sensible measures in place for employees traveling abroad – especially in an environment where there is an increased level of risk. Not only is transportation key, but also training employees – click here to learn about the Explore Secure® online travel safety training.
Employers and HR managers can help protect their staff (and indeed themselves) by reviewing their procedures and policies. Consider the use of pre-travel training packages or courses to prepare their people for the trips. Then, consider what can be done in-country to further reduce risk. As most issues and incidents tend to arise when people are in transit (especially traveling in vehicles on roads) a further consideration must be the use of secure executive transportation – with trained and vetted drivers.
In higher risk environments with an increase likelihood of criminal activity, you may wish to use the enhanced services of a close protection officer in conjunction with secure transportation. It will keep you out of the courts – but above all will set conditions for a safer workplace abroad which in turn will allow your staff to focus on your organizational goals.
Originally posted on https://www.execsecure.com/news-articles/duty-of-care-for-business-travelers-why-secure-executive-transportation-is-a-critical-aspect/
[1] Source: The Guardian – Aid Worker suing NGO; Sept 15 2015.