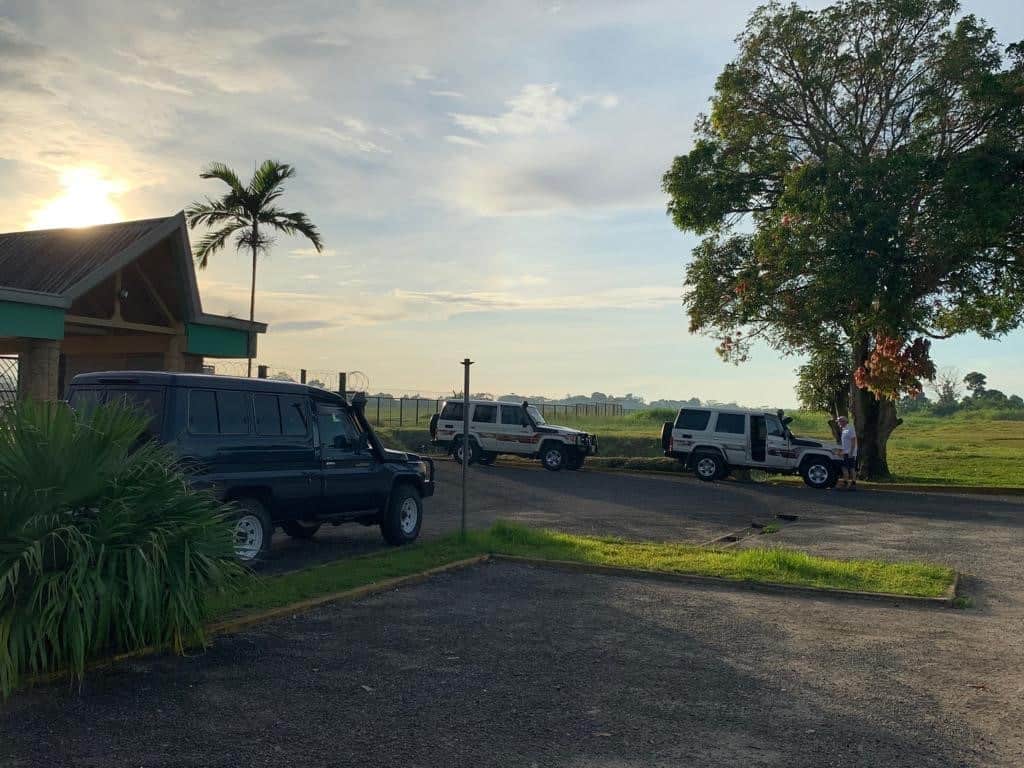 Papua New Guinea Case Study
A UHNWI Client was traveling to Papua New Guinea for a superyacht trip to undertake a range of overland activities, scuba diving, and watersports with his family (including children) across the islands. They approached ETS Risk Management to provide a comprehensive security solution. This included journey management, secure transportation, emergency medical, and super yacht security.
Our local team consisting of expatriate Australian former Special Forces, and local security specialists worked closely alongside our project management and APAC team to design security and incident response plans that didn't negatively impact the family, facilitated day trips, and water sports, and provided the clients comfort during overnight while mooring near the coast.
Papua New Guinea – The Risks
Papua New Guinea (PNG) is a high-risk security environment for travelers. Crime in PNG consists of a high number of indiscriminate violent break-ins, hold-ups, muggings, assaults, carjacking's and sexual assaults. Tribal rivalries and disputes over royalties and benefits from extractive industries motivate violent crime in rural areas. The vast majority of issues are centered in and around the main urban areas.
Tribal clashes are not uncommon in the country. Local disputes arising from tribal issues and settlement have the potential to quickly escalate into more serious and widespread disturbances. Ethnic hostility continues to exist between migrant settlements in the Highlands and between Highlanders and the coastal populations
Maritime Security and Piracy
There have been reports of piracy in 2019 (https://www.thenational.com.pg/need-declare-war-pirates/) and in 2018 the Prime Minister identified that piracy in PNG was a concern. Especially in and around the area of Milne Bay (https://www.thenational.com.pg/oneill-admits-piracy-milne-bay-big-concern/)
In January 2019 PNG and Australia initiated a proposal for a joint task force to combat the developing issue (https://postcourier.com.pg/abel-coast-guard-to-curb-sea-piracy/
Informal reports identify that piracy is on the rise due to the sheer area of coast, and offshore waters to be patrolled and a severely underfunded, undertrained and, and overstretched Police force.
The vast majority of pirate issues are not reported, logged or communicated. There is currently a Most Wanted hunt for a renowned Pirate called Tommy Baker who fled police custody and is apparently responsible for a rise of piracy attacks, but these appear to be focused to the South in Port Moresby.
Local security professionals identified that Piracy is a low risk off-shore, but informal reports have heard of small boats, skiff type boats (which are very common) moving to vessels at night in hopes of opportunistic crime, which in PNG can turn violent very quickly.
The Royal Papua New Guinea Constabulary were presented with many new water crafts vessels of all sizes from partnering countries for APEC last year, however since APEC vessels have remained dormant as RPNGC do not have funds for fuel or qualified and trained boat handlers. Criminal elements are aware of this and therefore conduct armed holdups etc. and head straight to the water's edge where their getaway vessel is waiting. A growing trend among criminal gangs today.
With regards to visiting yachts and ships the main threat would not be hi-jacking etc. but more like night time sneak and steal methods. Locals can easily swim to docked vessel and board during cover of darkness in an attempt to steal whatever they can get their hands on. If criminals are confronted or threatened in any way they will retaliate with extreme violence.
Risk Based Approach – Superyacht Security
The key objective was to ensure the clients had a high level of comfort that their family was safe during overnight mooring off the coast. Due to locals often approaching vessels for trade and the low probability risk of someone boarding the vessel the family requested support.
ETS chartered a support vessel with a local Captain with extensive experience of the locale. The support vessel provided overwatch of the superyacht without having security onboard, thus maintaining the families privacy. A 40 ft support vessel was utilized, which also housed the Doctor and the armed security team took shifts to patrol the surrounding area and act as pre-emptive threat detection and a visual deterrent, while also avoiding disrupting the rest of the family and crew.
Overland Journey Management
Due to the overarching risk of traffic incident, coupled with ongoing tribal tensions in certain areas, local security drivers and 4×4 vehicles were utilized alongside armed high-level expatriate personnel. Robust journey management plans were developed to include medical trauma kits, use of satellite phones, and support vehicles. The vehicles were strategically positioned according to the client vessel's position.
Emergency Medical
Ciguatera poisoning is prevalent and can result from eating coral reef fish such as grouper, snapper, sea bass, jack, and barracuda. The ciguatoxin is not destroyed by cooking. Risk is low due to expected low quantities to be consumed.  Swimming-related hazards include sharks, jellyfish, the Indo-Pacific man-of-war, stonefish, scorpion fish, stingrays, sea snakes, spiny sea urchins, sharp coral, poisonous cone shells.
Stonefish, scorpion fish and stingrays congregate in shallow water along the ocean floor and can be difficult to see. Wearing wetsuit booties may help, but should not be relied upon as complete protection due to the long rigid spines penetrating the booties. The jellyfish population is increasing, due to overfishing of jellyfish predators, rising water temperatures, and pollution. Jellyfish travel in groups.
Box JellyFish Can be found all year round but are more plentiful from October to May. Local contacts have not reported any sightings this year in West New Britain area. Stinger Suits are recommended.
There is a hyperbaric recompression chamber in Port Moresby. The Pacific International Hospital in Port Moresby is the most significant medical facility on the island. Medical evacuation is usually to Cairns.
Medical Emergency and Evacuation:
The general consensus is that if an emergency medical situation occurs, other than a hyperbaric issue, then definitive medical care e.g. Trauma One facility in Cairns, will be sought. Due to inherent time delay issues while being on a vessel, the services of a Remote Medical and Trauma Doctor was implemented.
Project Management and Overwatch
ETS had a dedicated Project manager on-the-ground, who liaised directly with the client and the client's Security lead back in the U.S. The ETS team provided 24hrs overwatch and monitoring during the itinerary.
Lessons Learned
The trip required a fine balance of security and local liaison with a very light touch but still supporting the family and addressing their concerns when locals approached the vessels.
Local guides, VIP trip planners, and high-level itinerary coordinators rarely have a good understanding of risk, nor an appreciation for the finer points of VIP risk management. They also often have a tendency to downplay concerns or be complacent in terms of personal security. There were regular comments of ' I've never had any issues before' and 'I travel alone here all the time with few issues'. A good warning sign is the comment ' I have liaised with the local community to ensure that we will be safe'
PNG is a complex operating environment and local expatriate assets are invaluable to ensure local intricacies are taken into consideration, while also having experienced and capable operators.
Emergency medical risks were at the forethought of all planning. Due to its remote nature, diving related risks, having children on the trip, and a poor medical infrastructure in PNG it was vital to have robust incident response.
VIP Itineraries constantly change and it is important to have assets on standby, and contingency plans in-place to react accordingly.
Please contact ETS Risk Management if you require security, medical and safety support in paua New Guinea.