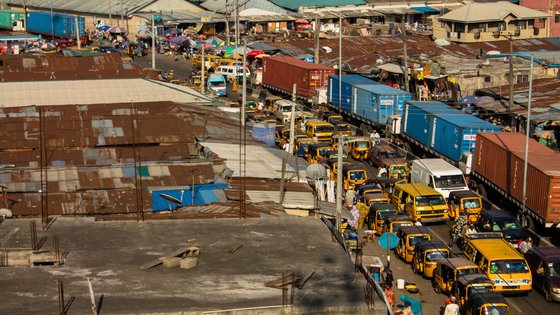 Nigeria is a complex operating environment, and to create the foundations for safe business travel; it is important to understand the unique local threats and vulnerabilities present in the region. Further, as with all travel risk management, plans and protocol should be in place before departure.  For example, conducting a detailed risk assessment, organizing secure airport transfers and day to day vehicle movement, and briefing travellers on how to best manage their own safety will significantly reduce the risk.
Not all travel within Nigeria requires the same level of protection.  Travel in Nigeria must be viewed through the lens of locality, and itinerary. For example, in Lagos, often non-armored vehicles with a security trained driver, and a non-armed Executive Protection Officer alongside a robust pre-travel safety briefing is commensurate with risk.
However, if travel is intended for outside of city centers or during the hours of darkness, added protection through the Nigerian Mobile Police (MOPOL) is recommended for an armed response capability.  Can Private Security in Nigeria be Armed? to learn more about MOPOLs role in protection.
What are the Risks to Business Travel in Nigeria?
Nigeria is among the worst countries for road traffic collisions in the world with both human and environmental factors to blame.  As a result of dangerous driving and lack of personal driving standards, fatalities are common.  The Federal Road Safety Commission identified the city of Abuja having the highest rate of accidents in the region, which is likely a result of excessive speeding and lack of road awareness.  The authorities also identified more than 60,000 people in Lagos are driving without a licence.
Like many African countries, the road quality and infrastructure in Nigeria lack from a safety perspective, and driving is extremely challenging.  Potholes are prolific, which not only damage vehicles but also increases the risk of breakdowns and being stranded in unfamiliar and dangerous territory.  Booking an experienced protective service team who are trained to navigate through challenging environments should strongly be considered for travel in Nigeria.
The Dangers of Public Transportation in Nigeria
Trains are prone to delays and are often affected by deficient signalling, ageing infrastructure, and poor maintenance. Derailments and overcrowding can occur, increasing the risk of becoming a victim of criminal activity, including petty crime and assault. Local buses in Nigeria are equally as dangerous.  Overcrowding, poorly maintained vehicles and driving at excessive speeds have resulted in multiple road traffic incidents in recent years.  Public transportation anywhere in Nigeria is not recommended due to the increased risk to personal security.
Kidnapping in Nigeria – Attackers do not discriminate
Kidnapping is a growing concern in Nigeria, and unfortunately, anyone can become a target.  Up until recently, criminal and terrorist gangs were typically targeting prominent Nigerian individuals and foreign travelers in Kidnap for Ransom opportunities; however, those from low-income areas are also becoming more vulnerable.
Already in 2020, there have been multiple kidnaps across Nigeria. In March 2020, Nigerian footballers were abducted while traveling along the Benin-Owo Highway to Akure, Southern Nigeria.  They were released a few days later although it is not clear whether the kidnappers received the ransom.  Typically, if the ransom gets paid, the victims get released.
It is not possible to pinpoint a single high threat area for kidnap in Nigeria; it is rife across the region.  However, the Niger Delta in the south of the region is particularly vulnerable and armed violence is frequent.  In Aug 2020, a local Chairman of Warri North Government area, Delta State was abducted while traveling home after a function.  His vehicle was ambushed by armed attackers, resulting in his driver being shot.
Other vulnerable areas include major facilitation routes, especially in the vicinity of airports and critical cities.  In 2013, a British traveler was abducted after leaving Murtala Muhammad International Airport during his travel to Lagos.  It is possible criminals are identifying their targets at the airport and following them on their onward journeys.  A secure airport transfer, coupled with a meet and greet service in the terminal, will significantly reduce the risk.
In the north, Boko Haram are equally capable and claim responsibility for most of the attacks in the region.  The terrorist group is known to target government buildings, security personnel, public places, especially those utilized by foreign travelers, and local nationals.  NGOs are frequently targeted, and on occasions, fatalities have been reported.
A standard method used by both militant and terrorist groups is to abduct victims from their vehicles posing as police or military personnel.  However, a standard ambush on a vehicle with the use of firearms is also quite common.
 Secure Transportation Services Decrease Risk Significantly
Having robust journey management and an overland transportation plan is an essential requirement for a safe visit to Nigeria.  If the basics are not carried out, travelers are placed at an increased risk, which can be significantly reduced with the right security precautions.
Research, plan and assess, understand the specific risks of the location and be confident in your mitigation measures.
Increase situational awareness and react if an incident occurs; the worst thing to do is nothing.
Think about improving your personal security by completing a travel security training course such as ExploreSecure®
Use a secure transportation service that has enhanced vetting of drivers, local security trained drivers with licensing and checks, and appropriate secure vehicles.
If in doubt, seek advice from security professionals for travel to Nigeria due to its challenging and unpredictable environment. Contact Us.
ETS Risk Management
ETS Risk Management is a global protective services company that provides travel risk management solutions for a range of Fortune 10, 50 and 500 companies across the world.  Whether it's a secure airport transfer to support business itineraries, or Executive Protection teams to compliment the clients' requirement, ETS can facilitate and has been operating in Nigeria since 2012.
Our secure ground transportation services always include a vetted, qualified security driver accompanied by a reliable vehicle.  Both our security drivers and Executive Protection teams complete an online training course, designed by ExploreSecure® to ensure their skillsets meet the requirement.
To learn more about the protective services we provide to keep you safe.
This article was written by Naomi Robb, PS Director for EMEA & APAC at ETS Risk Management.  ETS Risk Management provides Secure Ground Transportation and Travel Risk Management services across the globe.