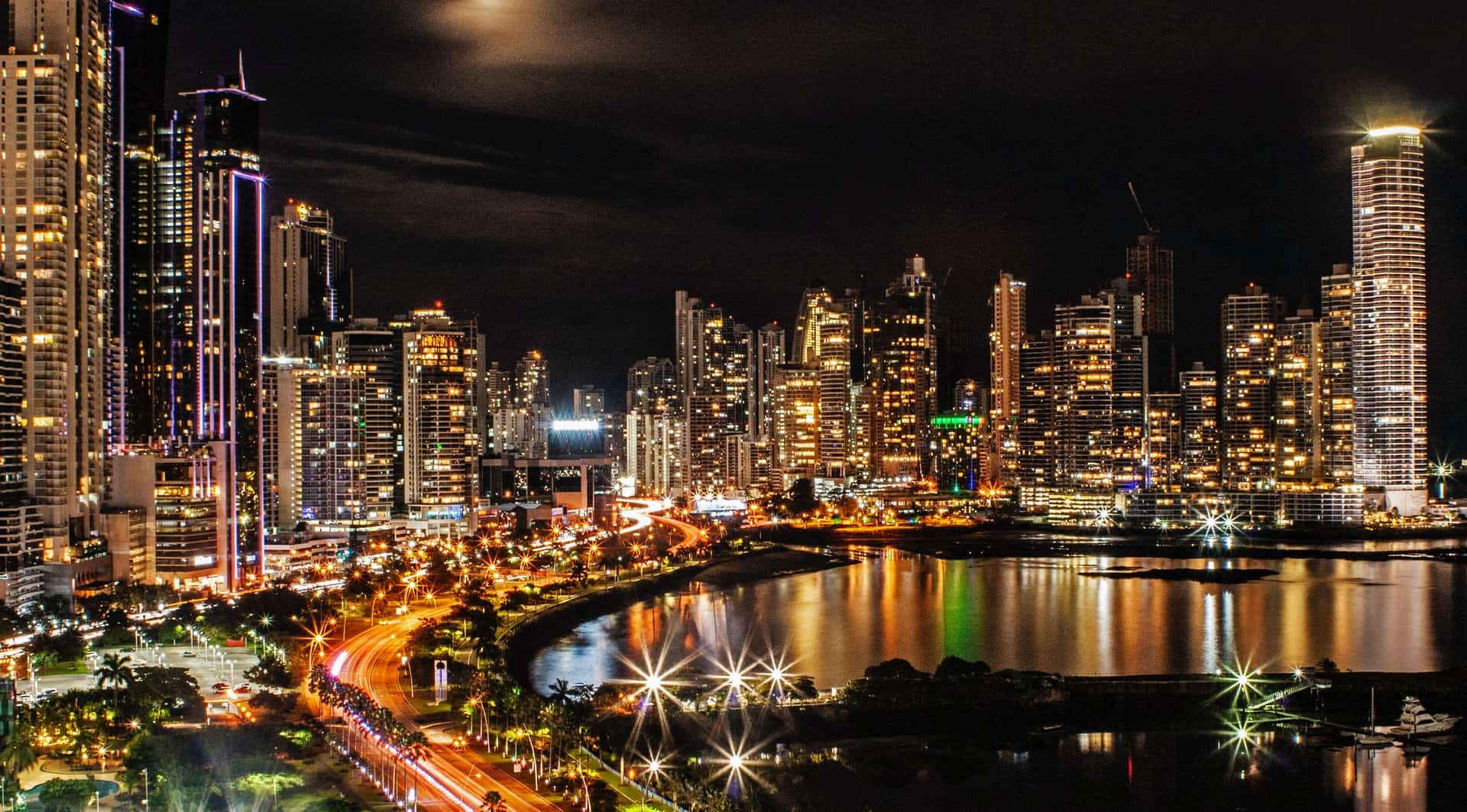 Panama
The Spanish colonized Panama in the 16th century, and in 1821 it became part of the Republic of Gran Colombia together with Nueva Grenada, Ecuador, and Venezuela. In 1831, Panama and Nueva Granada became the Republic of Colombia. In 1903, the United States contributed to Panama's separation from Colombia and financed the construction of the Panama Canal built (between 1904 and 1914) by the U.S. Army Corps of Engineers. In 1977 the Torrijos–Carter treaty officially transferred the Canal from the United States to Panama.
Panama's economy is primarily based on the services sector that accounts for almost 80% of its GDP and foreign income. Services include but are not limited to the Panama Canal, banking, commerce, the Colón Free Trade Zone, insurance, container ports, medical, health, tourism, manufacturing of aircraft spare parts, cement, drinks, adhesives, and textiles. Panama exports include bananas, shrimp, sugar, coffee, and clothing. Panama is considered a high-income economy with a history of low inflation, although it is not immune from poverty. After economic growth and public transfer, between 2015 and 2018, the poverty level was reduced by 3% and the extreme poverty level by 2.8%. Low-income areas near the capital and in rural areas are still struggling, and inevitably, criminal organizations lure young generations into an "easier way" to make a living.
Panama is a "Tax Haven" for foreign organizations and HNWI's. The very definition of Tax Haven explains the reasons and benefits of choosing the "offshore way": "A tax haven is generally an offshore country that offers foreign individuals and businesses little or no tax liability in a politically and economically static environment. Tax havens also share limited or no financial information with foreign tax authorities". (ref. Investopedia.com)
Numerous vessels owned by foreign companies and HNWI are also registered in Panama, making the flagship registry a very lucrative service among the ones mentioned above.
Crime overview:
Panamá is considered safer than other Central American countries, although the largest cities report higher crime rates. Provinces such as Panama, Chiriquí, Colon, and Herrera, are affected by gang activities, violent and non-violent crimes such as theft, muggings, armed robberies, rapes, and shootings.
Residential burglaries of both private residences and rental properties are on the rise, especially in affluent neighborhoods where thieves tend to enter unoccupied residences to avoid increasing their risks with potentially violent confrontations with homeowners. Some of the contributing factors to this crime trend are the absence of adequate lighting, perimeter fences and walls, lack of alarms, and poorly trained residential security personnel. Vehicular break-ins are also afflicting the population in metropolitan areas, and it is recommended to reduce the risks, to avoid leaving valuables unattended and in plain view inside the vehicle.
Lower-income areas such as El Chorrillo, San Miguel, Santa Ana, Cabo Verde, Curundu, Veracruz Beach, Santa Librada, Rio Abajo, San Miguelito, Juan Diaz, Pedregal, and Panamá Viejo are also considered high-crime due to an increase in gang activities, gun violence and notably, a significantly lower presence of Law Enforcement on the streets.
The Mosquito Coast in the Caribbean, the Darién region by the Colombian border, and the mining area along the Petaquilla River are particularly hazardous and remote. The access to these areas is exclusively by boat, and transnational criminal organizations are taking advantage of the environment to smuggle narcotics and firearms to both the U.S. and LATAM black markets.
The risk for civil unrest in Panama is moderate, mostly due to non-violent protests for students' rights, labor disputes, and some anti-US sentiments, often loud and disorderly, but only on very few occasions Police forces had to intervene to restore the order.
Outside the city, especially in rural areas, Indigenous communities protested against mining and dam construction projects causing the closure of major roads and highways with related traffic congestions and delays to public transportation. At times tension between the Police and the protesters generated physical confrontations that thus far haven't caused casualties on either side.
Road Safety and Conditions:
Driving in Panama can be hazardous due to heavy traffic, undisciplined motorists, poorly maintained roads, lack of signs and markings. Self-driving is not recommended, especially after dark and on the old Panama City-Colon highway, where robberies and carjacking occur, especially to travelers unfamiliar with the environment. Flooding during the rainy season (April-December) exacerbates the already difficult situation and especially in rural areas where emergency services are non-existent.
Police checkpoints are frequent, especially at night, in the most populated and high traffic areas due to a new "Policing plan" to increase Law Enforcement visibility and interfere/deter criminal activities. It is recommended to always carry personal identification and vehicle documentation if behind the wheel.
Public transportation is known to be affected by thefts and pickpocketing, although the new metro buses, equipped with larger windows and better lighting, and the modern metro rail system seem to have contributed to deter and reduce violent crimes.
Using taxis also requires a certain degree of caution due to numerous unlicensed and fake taxis, some of which, managed by local gangs. Avoiding taxis that already have a passenger in the vehicle and ensuring that the driver won't pick up strangers while en route to your destination is crucial to prevent incidents, considering that this is a commonly used technique in robberies and express kidnappings. Utilizing established cab companies and taxi stands are highly recommended to increase personal security.
Ride-sharing services are well developed and present some advantages through the use of apps that enable the user to link a credit card and to know the exact cost of the ride but cannot prevent incidents if, for example, the vehicle was stolen. The driver was affiliated with a criminal organization. Tourists and foreign travelers reported muggings, assaults, and even rapes occurred while using alleged ride-sharing services. For more information read our article on ridesharing safety.
Relying on the experience of a secure ground transportation firm, planning for security to reduce risks and facilitate itineraries across the country is paramount for organizations, business, and leisure travelers. The addition of an Executive Protection officer (whether armed or unarmed) is also beneficial not just for personal safety but also for planning the routes, coordinating movements, and facilitating daily activities while preserving your reputation, image and brand.
Environmental Hazards:
Panamá has a lower seismic risk than Colombia and Costa Rica; however, several fault lines are running through the country, and three mild earthquakes were reported in January 2019.
During the rainy season and the tropical depressions, torrential rains, particularly in October-December, have caused several fatalities due to mudslides, flooding, and falling trees, especially in rural areas.
Terrorism Threat:
In 2017 Panamá was the first Latin American country to sign for the Anti-ISIS coalition, promoted by the United States "earning" in that instance, threats from ISIS through the internet.
The same year, U.S. authorities arrested operatives of the terrorist group Hezbollah in the United States who had previously conducted pre-operational surveillance of the U.S. Embassy in Panama City and the Panama Canal.
Despite this isolated incident, the risk for terrorist attacks in Panama remains Low.
Medical Emergencies:
Panama City has excellent trauma hospitals, facilities, and clinics. The level of care is aligned with U.S. standards, and emergency services are very responsive and efficient. Rural areas have a much lower level of emergency and medical assistance and are also penalized by the absence of Ambulance services. If planning on traveling to remote locations, it is necessary to prepare for medical emergencies and carry essential supplies together with a health professional.
Due to the ongoing health issues caused by the Zika virus and most recently by Covid-19, it is highly recommended to consult with the health to learn about entry, medical insurance, and requirements in Panama.
ETS Risk Management has provided travel risk management, airport transfers, secure ground transportation, and executive protection services to business travelers and tourists in Panama for the past eight years. We have extensive capabilities in the country and highly qualified local assets with many years of experience in the private security sector. We have assisted 100 and 500 Fortune companies, VIP's, HNWI's and wealthy families traveling to Panama City and the rest of the country for business, events, and leisure.
The article was written by Mirko Ruggeri, ETS Risk Management, Director of Protective Services – LATAM.